The 19th Russia (Moscow) International Wire, Cable, Wire, Cable and Equipment Exhibition
March 17-19, 2020 Moscow Sokolniki (SOKOLNIKI) Exhibition Center
●Exhibition Introduction
"CABEX" is hosted by the internationally renowned MVK company, and has received strong support from the Russian Federation of Cable Industry Research Institute, the Russian Cable Association and the Ministry of Energy and Industry of the Russian Federation. This exhibition has been held for 18 consecutive times. Its scale and influence are the largest and most professional cable and wire exhibition in Russia and the former CIS. It is recognized by the international wire and cable field to enter the Russian and former CIS countries. The most effective way; in order to improve the efficiency of participation, previous exhibitions are only open to professionals.

●Market introduction
Russia is one of the largest power markets in the world, and the power industry is very developed. Up to now, Russia has nearly 10 million kilometers of cable projects to be built. At the same time, the existing cables have been used for many years and need to be replaced again, forming a huge market. China and Russia are close strategic cooperative partners. The industrial complementarity between the two countries is very prominent. Intergovernmental relations and economic and trade relations are at the best period in history. The development of the Russian wire and cable industry lags behind that of China. Chinese wire and cable, wire and equipment products are popular with Russian enterprises due to their high quality and low price. Chinese enterprises are facing excellent historical opportunities in exporting to the Russian market.
A total of nearly 50 companies in China participated in the last exhibition, all of which achieved more than expected results. Almost all manufacturers are willing to continue to participate in this exhibition, and welcome more Chinese companies to join the Chinese pavilion to participate in the exhibition.

●Last data
CABEX2019: a net exhibition area of 10,000 square meters, with nearly 350 companies from 15 countries participating, including 180 domestic exhibitors in Russia and more than 170 foreign exhibitors; foreign exhibitors mainly come from Australia, China, Germany, Greece, India, Italy, Poland, South Korea, Serbia, Spain, Turkey, Ukraine, etc., attracted nearly 12,000 professional visitors; 95% of exhibitors met their customers, 82% of exhibitors collected the latest market trends, and 76% of exhibitors will participate in the next exhibition , 39% of exhibitors consider increasing the booth area, 92% of the visitors are satisfied with the exhibition, 83% of the visitors go for more than three consecutive visits, and 86% of the visitors aim to find products or partners
●Range of exhibition
Wire and cable: power cable, oil production cable, communication cable, mineral insulated cable, optical fiber cable, mine flameproof cable, radiation resistant cable, radio frequency cable, heating cable, etc.
Wire: overhead power line wire, communication wire, winding wire, low-voltage wire, etc .;
Accessories: splice boxes, transformers, distribution gears, connectors, cable assemblies and accessories, plugs, etc .;
Special equipment: cable processing equipment, cable fan equipment, cable and wire installation equipment, tools and accessories, cross-connect equipment, test equipment and methods, testing tools for cable and wire installation.
●Distribution map of the exhibition hall: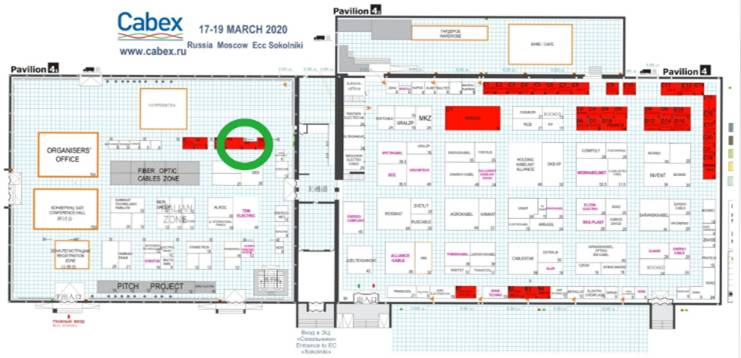 ●Company booth location map: (Booth No. to be determined)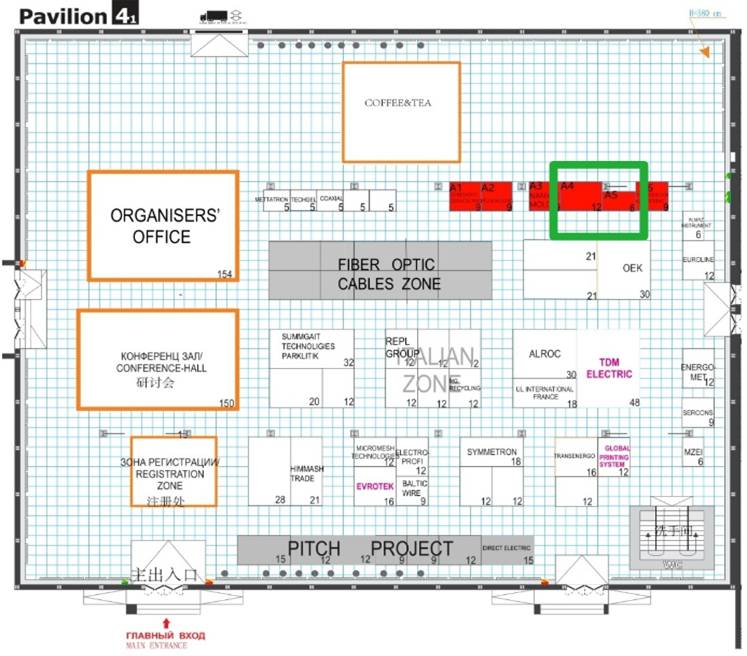 At that time, our company will participate in this exhibition as an exhibitor. This is also the first time that the company has registered for the exhibition since the outbreak and resumption of work. Our sales team will work hard to overcome all kinds of difficulties and go all out to provide the best products and services to new and old customers.
From March 17th to 19th, I look forward to meeting you in Russia and going to an industry event not to be missed!