General Manager Ou Yaojin Visits Dalian Mazak
On April 26, 2023, Ou Yaojin General Manager, Guo Xinan General Manager of Leshan Company (third from right), Liang Zhiqiang General Manager of Boke Company (second from left), Chen Manbiao General Manager (first from right), Chen Mingxue, Business Representative of Jincheng Company (first from left), accompanied by Zhao Yunfeng, Deputy General Manager of Mazak Company (third from left), visited the Mazak Dalian factory area.

Yamazaki Mazak was founded in 1919 in Japan, with products covering processing centers, lathes, and other processing equipment. It has 10 factories, 8500 employees, and 87 technology and service centers worldwide.
Mazak Dalian Factory was established in 2013 and is Mazak's second production factory in China. Its products cover horizontal CNC lathes, vertical CNC lathes, vertical machining centers, and vertical gantry machining centers. Relying on Mazak's advanced manufacturing concepts and technological accumulation, Mazak fully utilizes the advantages of automation, flexibility, fewer people in the production process, as well as network, information, and visualization in the management process, from order receipt to product delivery, Realized the synchronous promotion of physical logistics and information flow, and achieved efficient production and operation. The customers of Dalian Factory have spread to 36 countries including China, Japan, Britain, Germany, Türkiye, France, Italy, Poland, etc. Up to now, more than 13000 machine tool products have been successfully delivered to the global market. Last year, we used the company's horizontal CNC lathe, which improved quality and efficiency. We are currently negotiating future procurement.
According to the introduction of General Manager Qu Yaojin, this is his fourth visit to Yamazaki Mazak, including 2 trips to Japan, 1 trip to Ningxia, and this trip to Dalian. As early as their second visit to the Japanese factory in 2013, they began renovating the workshop environment and lighthouse factory. The current on-site environment of the Dalian factory area is basically the same as that of the Japanese factory area, with pure white ground, bright spatial environment, and neat product placement, giving people a relaxed and happy feeling. We tried very hard to find a drop of oil or oil loss, and even under the material conveying track, we couldn't find any stains, which surprised our visitors.

Product is undergoing debugging and monitoring On site production office

Intelligent parts processing workshop Intelligent digital factory
The parts processing group seen from the height of the visiting bridge has a machine operating rate of over 98%, all data is centrally controlled, and there are only a few on-site personnel.
After visiting the factory, Vice General Manager Zhao Yunfeng had in-depth discussions with the visiting group on enterprise management and introduced the scale of the Dalian factory. There are approximately 750 employees, with an annual sales revenue of approximately 1.5 billion yuan and an annual per capita output value exceeding 2 million yuan.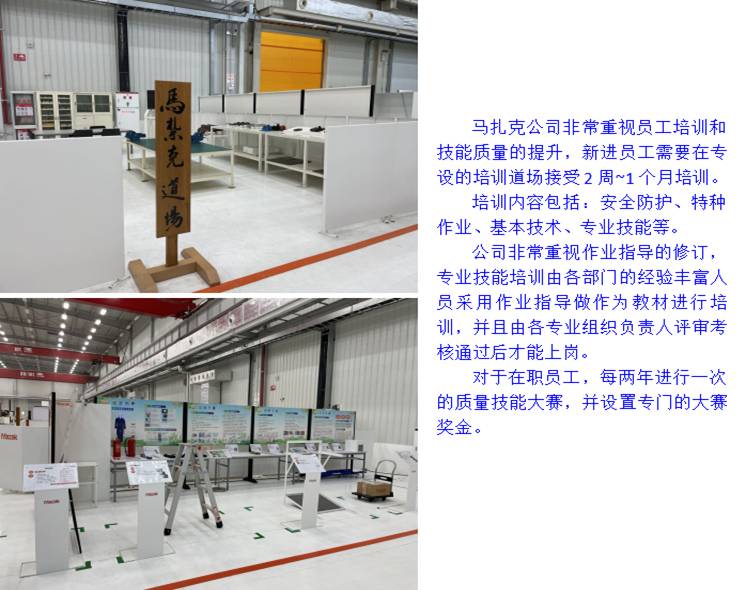 Finally, the visiting group stated that from June to July this year, they will organize the Machinery Chamber of Commerce enterprises to visit and study the Dalian factory, focusing on production and quality management, digital chemical plants, quantitative management, human resource management, etc.